confrontation
As I mentioned earlier, my friend Jessica over at
Quilty Habit
is doing a series this month called Sewing Confrontations, challenging fellow sewers to tackle some lingering challenge. Being all super ambitious, and thinking I had all the time in the world when I signed up, I decided I would work on making myself a decent-fitting pair of pants.
Any of you who know me in real life know that I don't wear pants all that often. 7 days of 10--probably 9 of 10 in the spring and summer--you'll find me in a dress. This is not because I don't like pants, or because of any exceptional twee-ness on my part. It's really because a) dresses are easier to fashion into a proper outfit; and b) it's much easier to find (or make) dresses that fit decently.
One of the first things you want to do when sewing garments is to anticipate possible problems. I already know ready to wear pants give me all kinds of fitting issues, due to the following facts:
1)
I'm tall, and long-legged.
I wear a 34-inch inseam, which is hard to come by. Most stores' "long" pants are 32" or 33", which is not-quite-sufficient for me. Or, (very occasionally) they go the other way entirely and offer 36", which is way too long.
2)
My waist is both high and small. My hips are both wide and long.
Sometimes a pair of pants will fit just about everywhere, and then I sit down and it's like I'm wearing legwarmers only, because they do not really cover anything anymore. If the rise is high enough that everything's covered, and the pants fit my hips well, my waist is probably swimming.
3)
I have a fairly significant swayback.
For those of you who don't sew clothing-- a swayback is the term people use for that hollow at the small of your back, just above your hips--when it curves inwards dramatically, you've got a swayback. Do you try on pants or skirts and they seem to fit everywhere except the back waistband is always floating in space inches away from your actual back waist? You, my friend, are a member of the Swaybacked Sisterhood.
4)
I have full hips and thighs.
Sometimes pants in my size are tighter than they should be up top, but a larger size is so much bigger everywhere that that doesn't help. Usually at that point I just give up and leave without any pants.
So knowing these things, there are certain lower-body fitting adjustments I am always on the lookout for, even when I am sewing dresses--lengthening the leg and hip, grading the waist in and hips out, and taking in or adjusting the back waist. In skirts and dresses, these things are relatively simple to do, but how to translate them to pants? These are the challenges I'm setting out for myself this winter.
For this week, however, I need to get into the habit of actually
constructing
pants. (photos after the jump!)
I've made enough dresses at this point to have the basic assembly down, but I've only made pants once, and it was when I first began sewing:
These are the Yoga Pants from Diana Rupp's
SEW: The Sew Everything Workshop
book. It was one of the first projects I finished. They are a very simple super-wide-legged pant without pockets or a zipper, and a drawstring front. These pants look and feel great, but have two critical flaws (other than not having pockets, which just feels weird in twill pants): 1) I didn't realize how annoying a drawstring waist is, even with a swayback; I keep having to retie it, and 2) the crotch length and depth is not quite sufficient (See #2 above) so I don't dare wear them without a significant hem on my top. They are great while standing, not so much so when sitting.
So for this challenge I wanted some more typical pants. First, I ordered Sewaholic's new
Thurlow pattern
, designed for pear-shaped women. This is what I thought I'd do. The pants looked good. Pockets--even back welt pockets--and a waistband with belt loops, and a nice modern shape: fitted waist and hips, boot-cut leg. These are pants I would buy! And the measurements are exactly in proportion to my own. The only problem was that I am about one size bigger than the largest size on the envelope. No problem, right? I make things all the time, I can grade up a size. So one night I opened the pattern and, um...
linesonlinesonlines
NO. Tasia's careful work in making a well-fitted pattern for a variety of sizes (and having them all available in one envelope) meant that it was going to be a LOT of tracing and figuring to grade up. The garment measurements on the envelope also indicated I couldn't just wing it with the next smallest size, and the pants are so cute because they have so many pieces.
I tried to make myself just forge ahead; I tried to iron myself into willingness. It didn't work.
I trace off all my patterns before using them, and it would take me a whole weekend just to get everything sized properly,
before
I do any actual adjusting. I still plan to make these...but uh, maybe I should wait till I am on vacation, or at least after losing a few pounds.
*This is no shade for the pattern. I think it's probably a good thing that it is the way it is; this has everything to do with my realizing what's really too much for me to take on right now.*
My next candidate was the
Colette Juniper pant
. These are wide-legged pants with a nice wide waistband and front pockets. They looked simpler than the Thurlow but still nice fall pants. However, the measurements are not quite proportional for me, so *whine* I'd have to do mooooore fiddling. (Yes, I know, challengechallengechallenge SHUT UP, Y'ALL.) Also, I bought the PDF version, so there's lots of taping to do. These are on the "to do soon" pile.
A little frantic, I started flipping through my giant stash of paper patterns and of BurdaStyle magazines. Surely I have SOMETHING in all of this? An envelope pattern that don't look like Mom Pants or a Burda pattern that isn't Trying too Hard and Doing The Most? I finally found
these
in the October 2011 issue, buried between a skirt suit and a dress on my Winter Must-Make lists. (I like the top, too.)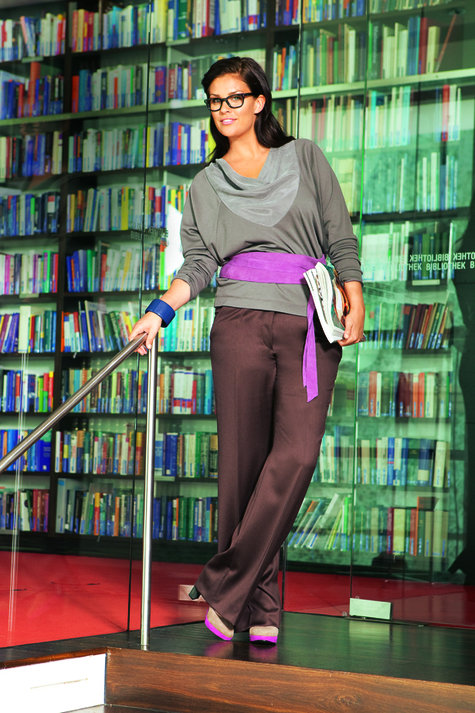 Wool satin trousers @ BurdaStyle.com (October 2011, #137)
They are a pretty simple trouser with front slant pockets and very few pattern pieces, but in addition to working on fitting, and the slant pocket, they do require installing a fly front with a zipper, which I have not done before. So I figured they'd do for an intro. (Honestly, the baffling translations for directions for BurdaStyle patterns are enough to challenge even the most experienced sewer.) Burda doesn't say much about the fit, but you can see from the model and the line drawings that it's a fairly generous straight-leg cut, and meant to be long. There are no back pockets and no belt loops included.
Very long story short: this will be, I fear, a miniseries within a series. I'm sorry, Jessica!
Tomorrow:
I buy ugly fabric and make a mockup!